caput primum
With this I want to instruct you how you should act and force the spirits with strongest power so that they have to appear and come in front of your circle and give you everything that you want from them. At the beginning they refuse. You should keep su mmoning them. In most cases do they come when you call them for the third time.
If a spirit now appears and he does so as you requested, i.e., in a beautiful human shape, then it is best to ask him two or three questions so that you will not annoy him. If however the spirit does not come in human appearance, then you should torture him and you should not receive him.
The practitioner and his helpers should have received the absolution before the summoning and they should also have received the Holy Communion. In addition, they should be very skilled in prayer, otherwise the spirits will not obey them. Your faith in the success of the operation needs to be as strong as if it (the success of your summoning) had already happened.
In addition to this, you should consider diligently the day and hour such as Monday at 8 and at 3, Tuesday at 9, at 6, and at 12 midnight. Always work on these two days, when the Moon is full, then the spirits will have to bring everything that you deman d and want. You should do the summoning at a secret place. This ensures that you, the operator, will not be blocked or prevented in your work.
You need to make the circle and everything else with care. You need also to follow all instructions so that you will not make any mistakes. You should also have the pure truth of how you should behave and you should give to the poor and to your sufferin g neighbors.
Keep all that which you have read in this book a secret and do not give it for free to anybody, otherwise you will not be happy. The fees that you receive from what you are doing you should pass on to others and you should help the poor and the persons w ho are suffering and the humble ones out of their difficulties. If you refuse to do so, you will have no luck nor a good star. Let this be a constant warning to you, because never again will you receive those sciences of this world.
Use everything correctly and in secret. Use it the right way, and reveal it to nobody who is not worthy, otherwise your neck shall be broken, and if you tell it to a man of glory and you do not give the money that you received for it to a suffering and p oor man, keep this a secret. Be careful not to make any agreement with the spirits so that you will not suffer and experience that which is going to happen to me.
General Citation of All Spirits
Osola mica rama lamani
Volase cala maja mira salame
Viemisa molasola Rama Afasala
Mirahel Zorabeli Assaja
caput secundum
This chapter describes the making of the circulum.
First: You should trace the circulum with a sword that has nobody yet hurt. On one side of the sword, you should inscribe the following characters.

On the other side, you inscribe these characters below.
Second: You should trace the circle while you say the following words:
O Le Ja meni sete Mirari jael
la mese mihi Jasala Ale Jona
Masa criel Finamiel-Siona
O la sariel Assa Salimeni Arael
fasa, maja, Paja, Lalemisa Jerobeliel
Majasa faliel mica sariel olomisa
lale masa Hajariel
After you have done this, you make three crosses and you pray three Lord's prayers in the kneeling position.
Third: When you summon, you must put in front of you in the circle the following symbols that you should have traced in red color.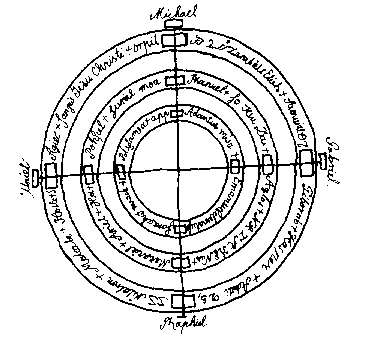 ---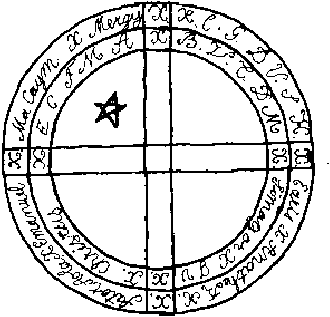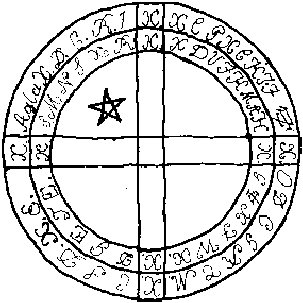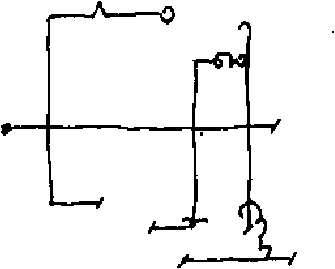 caput tertium
This chapter has to do with the seven Grand Dukes Whenever you intend to summon spirits, you need to put the seal of the spirit whom you want to call three steps in front of the circle so that you can show your intention. The following is the Seal of Aziel, who is the first of the grand dukes:

(Sun) They call me Aziel, and I am a ruler over all hidden treasures of the Earth. I have power to open all treasures and I give them to the persons to whom I like to give them. I also try shrewdly to cheat in whichever way I can. My planet is the Sun, and my paladin Carmielis is my servant. I am appearing in the shape of a bull, but I can also assume any other form. You ought to give me rulership over everything because I have many legions of spirits serving me. I am a Grand Duke. You need to coer ce all my subordinates with force, which is the same way you have to coerce me, because I am a Grand Duke on Earth who has many things under his command. Therefore you need to summon me the right way, otherwise I will not appear before you. You should e ngrave my other character (= sigil) in gold. I will only tell you this other seal if you ask me to do so. I am as fast as human thought.
ARIEL'S SEAL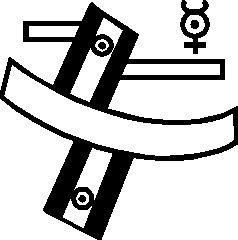 My name is Ariel, and I appear in the shape of a dog. I command everything above and below the Earth. Many legions are under my command, and I am a fast spirit: as fast as a roe deer. Some people will benefit from me. Others I will hurt. I will always be acting in the manner in which you will have summoned me. I am an obstinate spirit who will not follow the call of any person. Therefore you have summon me with power before I will appear. Many millions of spirits are under my command, and I am a ruler over the treasures of all gods. I am as fast as the wind.
MARBUEL'S SEAL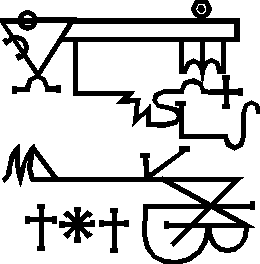 I am the spirit who is ready to serve. I appear in the shape of a ten year old boy. It is useful to summon me at any time, and I am as fast as an arrow.
MEPHISTOPHILIS'S SEAL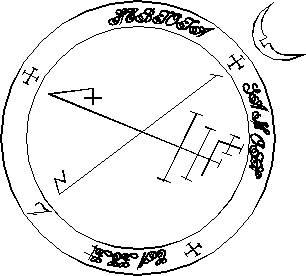 I am the grand master of many arts and of luck in general. You can learn things in an instant. You need to summon me four times. I have quite a selection of spirits under my command who are serving me. Whenever I command them to serve they do so fast.
BARBUEL'S SEAL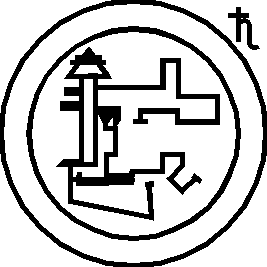 I am a water Lord over the seas and over all waters. I rule over everything that lives in water. I am fast and I may give everything provided that you summon me right. Then I shall appear and I may also please you.
AZIABEL'S SEAL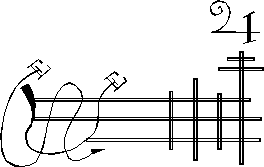 I am a great spirit who appears as a little child. I serve anybody provided that he or she summons me right. I am ruler over the affairs of law. Many spirits have to obey me. I also like to please everybody, and I can make honor, riches, status, and a lot of luck.
ANIFEL'S SEAL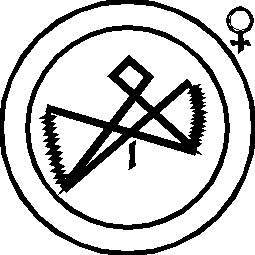 I, Faust, asked once my Grand Duke Aziel how I could tie and coerce humans. He replied to me that he could mot tell me that, so I told him to write it down for me rather than to tell me in words. "Oh!" Said the spirit, "my Faust, I truly should not have made an agreement with you, my Faust! However, I am going to write it down right here so that you will know the answer: My Faust!
1. F. this is my coercion, when I have to say Jesus Christ is in 2.3.
V. the flesh comes
4. with the omnipotence
of god, this is not to discover
5.
and when I should keep my promise to
someone, then he needs to have me swear by
the cross,
6. until I will give my sign
This is the sign as it stands here.

imperium magnum
infernalis
The Infernal Empire is as follows:
1. LUCIFER, the emperor
2. BELIAL, Viceroy
3. SATAN, Governor
4. BEELZEBUB, Governor
5. ASTAROTH, Governor
6. PLUTO, Governor
The following are the seven Grand Dukes of the Infernal Empire:
1. AZIEL
2. MEPHISTOPHILIS
3. MARBUEL
4. ARIEL
5. ANIGUEL
6. ANISEL
7. BARFAEL (Barbuel)
These are the Grand Ministers and secret Infernal Counsels
1. ABBADON
2. CHAMUS
3. MILEA
4. LAPASIS
5. MERAPIS
These are the Spiritus Familiares of the Infernal Empire
1. CHINICHAM
2. PIMPAM
3. MASA
4. LISSA
5. DROMDROM
6. LOMHA
7. PALASA
8. NAUFA
9. LIMA
10. PORA
11. SAYA
12. WUNSOLAY
caput quartum
This chapter contains the summoning and conjurations of the spirits.
Summoning of AZIEL
I, (say your name here), command thee, spirit (here you have to say the name of the spirit), that thou appearst instantly by the power of the word ADBDA and also by the power of the angel AMASALE, and by the power of the star GADALA which rises in the last degree of Capricorn, which I (your name) set up as a symbol of this. I call thee, spirit (name of the spirit) by Durashain, Maim, Lulim + (make a cross whenever the symbol + appears in the text) Menim + Senim + Zaim + Sulim +. I conjure thee spirit (na me of spirit) by Hipim + Repim + Sepim + Gulum + Locsant + Dropep + Schamot +. I (your name), I (your name), I (your name) command, command, command, thee spirit (spirit name) by the power of the heavenly lord + who created heaven and earth and all which is on it, who commands the four winds, who rules over all beings, and whom everything which is alive and created has to obey, that thou, spirit (name of spirit) doest everything for me which I command thee to do, by the power of the following words Alaja + Rasamule + Moliel + Zynagamim + lo + affrisi + Misaniel +, that thou bringst me everything, that thou, spirit (name of spirit) do so now, in speed, your symbol with you in front of my circle. I (your name) call thee by the power of the four winds , by the power of the air, and by all beings created, that thou appearst before my circle right now and that thou doest that without trying to instill fear, in visible shape. I (your name) conjure thee by everything that is alive that thou comest, comest , comest, by the strength of all strengths, which had you overpowered and who commands everything. I conjure thee, air, that thou doest not keep the (name of spirit) from me, but that thou sendest him very soon. Oh la Valasaja + Salajami + Masei +, but that he gives me speech and answer in English language. Amen.
General Summoning of the Spirit
AZIEL
Calemi + Cadem + O spirit (name of spirit) Poramase la hemise + Coelum + et Firmamentum + Casami + Misarajaet + Xamara + Sadalachamim + Dusama + Popiniet + Lemisisaraet + Amen
If he does not come, speak this three times.
Particular Summon of the Grand Duke
ARIEL
I, (your name) summon thee, spirit (name) + come, come, very speedily +. Firmament, earth, air, and everything, that you will not hold back the spirit I command this to you by the great words and names Dala + Makasaim + Rusaloja + Munot + Phalaniet + I coerce you spirit (name) by the strongest coercion Roma + Sa + Ra + Familia + Rominase + come, come, come, immediately, come, come, come, Anasai + fa + fali + monitase + fata + Amen
Main Conjuration of the Grand Duke
ARIEL
Vota + misa + Lasafe + ma + Homina + Sara + Pada + Chagiel + Matachia + Mecha + Enazarael + O hevilame Ga + Hiebani + that thou sendest him before my circle, or else thine punishment shall be seven times as much on thee spirit (name of spirit) in hell, I Roma + sa + fu + Amiel + mien + suisa + Amen
Particular Summon of the Grand Duke
MARBUEL
I (your name) conjure thee Grand Duke (name) by the great ruler in the heaven and on earth, in the water and in the air, in the fire, on earth, in the hell, outside the hell, and by the word which there was at the beginning of the world, who has overwhelm ed you, Great Duke (name) during his victorious descent to hell, and who has stepped on you with his feet. I (your name) conjure thee Grand Duke (name) by all the leaves and grass and by everything that is called world, that you open for me all foundatio ns of the earth and that you bring it in the name and power of the one who has no end + all stones, spirits, and earth spirits, and bring them in front of my circle, and that you immediately do so as I command you according to my will, by + Amala Saim + f ara + lamim + Saumi + ma + Amen. Come, come, come.
General Summon of the Grand Duke
MARBUEL
Ma + Schaffot + Etanahoim + Masalami + Fasta + Apiramus + Misa + ETANOGANASA + Padaschia + I, (your name) call thee (spirit name) by Masa + Hipa + Sapa + Rama + Laja + Meffi + Amen
Main Summon of all spirits when they make noise
O Ma + Raieschia + Nisanatos + Mopsi + Laminasi + Coporasch + Monasha + Alolia + Mygyssa + Pompana + Nosis + Firmamenta + Samasa + Jameschia + Fonascha + Molami + Amen
Poraschalia +++ Minischa +++ Semisa +++
Speak this three times
Conjuration if the spirit refuses to transform himself
Mosa + O Naschi + Gajala + Pressi + Fafa + Hisca + Allismicos + Felschima + Potmas + Saal + Amesda + Proceses + Terra + Festus + Spica + Munisa + Soila + Desca + Elesiamini + Amen +++ Qui venit in nomine Domini O Kyrios + O Kyrie Eleison + Amen +++

Speak this three times
The greeting to all spirits
Palifasta + Firmis + Demecha + Haim +
caput quintum
This chapter has to do with the binding, loosing, flogging, and dismissing of the spirits. The following is for binding, when the spirit does not want to stay. Speak it three times.
Deus + Pata + binde + Jesus + Behalte + Deus + Spiritum + binde + durch + Kraft + Christi + Knuepfe + schliesse + the spirit (spirit name) Amen +++
Threefold loosening when the spirit refuses to answer
O Sa miha + Aseffonila + Ja + La + Mifflahi + Mehahinesi + Milonahireil
Flogging, to be spoken three times
When the spirit does not want to obey hit into the air with the switch, and hit also the spirit's seal. The switches that you use for the flogging of the spirits should be of the wood of juniper. Cut them on a Thursday in the new of the Moon early in th e morning before sunrise in the hours of Mars and Venus. Cut the following words into the switches: "The seed of the woman should stomp the head of the serpent" Defi + Ministrahel + Jasa + Mifana + Hisanam
Conjuration to the flogging
Prescio + Mipot + Domisiac + Tufi + Maha + Huschia + Laemelisete + Hedera + Cade + Veleadis + Locisomnibus + Amesiamin + ARIROSH + Laedemische + Jehonale + Hisipo + Amen +++ Podarasche + Podarasche
Dismissal of all spirits
O spirit (name of spirit) + Portam Benedictam + Sic tecum quasia horas siece mila + Amen
When the spirit does not want to leave, then speak:
Benedictus + est qui omnia regnat + per omnia secula seculorum + in nomine domini +++ Amen +++
You can also summon the Grand Dukes and all other spirits with the citatio that you find in my last will.
Fumigation to summon an evil spirit
Take garlic, sulfur, pitch, Christ herb, Burzel herb (?), put this on coal, and when the smoke rises be careful that the spirit does not press you, and speak the following words: O Lama + Basulai + Monai + Mempis + Lorrate + Pacem +
Doctor Johannes Faust's Noble Secrets
These are Doctor Johannes Faust's noble secrets and sigils that serve to protect every operator and practitioner of the FREE ARTS against the spirits, and which may also be carried with oneself for other purposes for which they are useful. This everyone should keep well and with respect. You should keep such secrets well hidden so that you will not suffer great damage, bad luck, or death. This keep well in mind.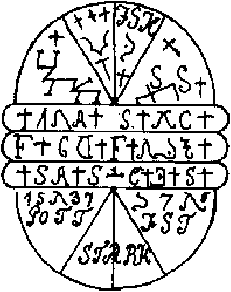 Make this seal on a Sunday morning before Sunrise in the hour of Mars. You have to engrave it in gold. If you carry it on you, it protects you against all spirits so that they cannot hurt you. It also protects you against all your enemies when the seal is in a pouch of red velvet and when you carry it on the right side of the clothing.

You need to make this symbol on a Friday in the hour of Venus and you have to wear it in front of your chest. When you have dealings with the spirits, then you are secure and free from all danger. You have to draw the symbol on Virgin parchment with the blood of a bat.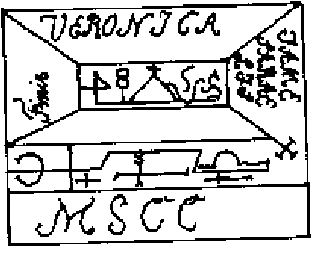 Make this seal on a Monday during the hour of Jupiter. It will free you from all evil spirits.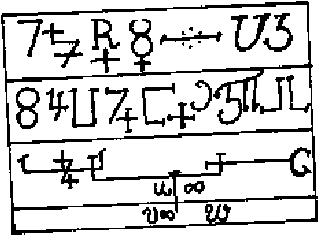 Make this seal in the Night of St. John (June 21st -- the translator) at midnight and on gold. If you bury this seal at a place where spirits are dwelling, they will leave rapidly and they will leave behind all their treasures.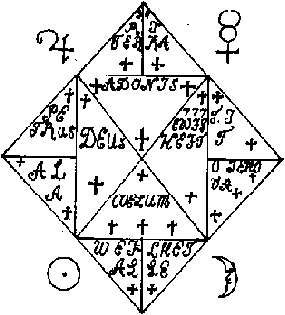 This is a seal with which you can bind and coerce all infernal spirits when you show it to them during citations.
When you engrave this seal on silver and put it on a treasure, it will cause the treasure to rise and the treasure will be yours for certain and all spirits will leave the treasure. This is the most powerful seal that you will ever find.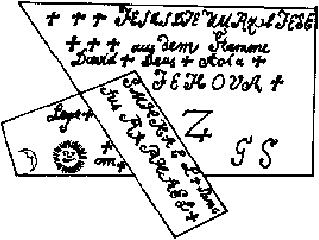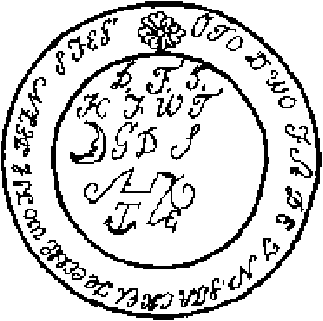 This seal helps your emotions and also your body. If you carry it on you, nobody can harm your body. You will also win in everything that you begin. Everyone will be afraid of you. Engrave the seal in gold in the hour of the Sun on Sunday before Sunri se. With this seal, you can also make yourself invisible when you put it onto yourself in the hour of the Sun.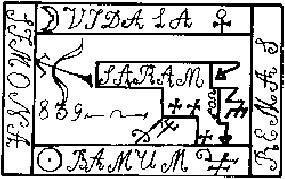 This seal is of use in all operations and it should never be left out, because it is the operator's defense and wall.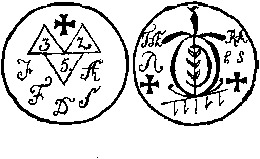 This serves against all spirits and evil beings. When you put it on a place they have to leave it. Engrave it on lead in the hour of Jupiter.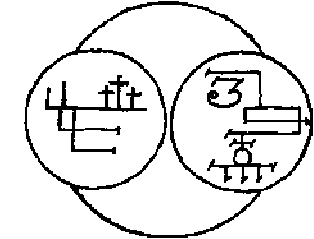 Make this seal in the hour of Mars and Venus on iron and copper, put it for nine days on a place where a treasure is buried, and all spirits will leave this place and you will find the metal covered with blood.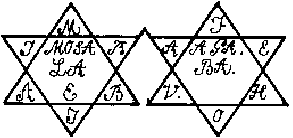 With these seals you can perform miracles. You are secure from all your enemies and nobody can harm you in any way. Fire and water are afraid of you and evil spirits have to leave. It is a powerful remedy against all diseases and you need no medicine. Nobody will deny you any request. Whatever you begin will come to a good outcome. All people have to love you and to fear you. You are fortunate in dealings with the clergy and in court. This is the most powerful seal that you possibly could find. Y ou should engrave this seal on gold in the hour of the Sun.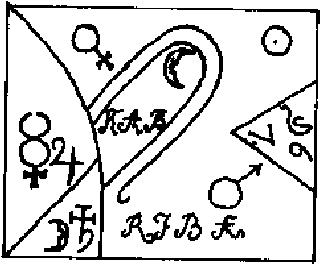 This seal is to be engraved on an alloy that is composed of all seven metals. If you put it on a treasure that has been transformed, this seal will bring the treasure back into its true shape. You should make this seal in the hour of Mercury on a Wednesday.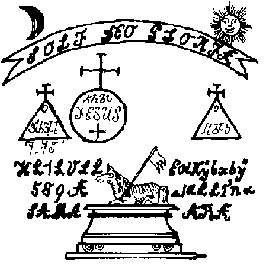 I have bought these last four seals in Holland for the enormous price of 8000 Ducats. I found these seals to be good for any situation. They helped me especially in the digging of treasures. I have been able to do with them anything that I wanted.