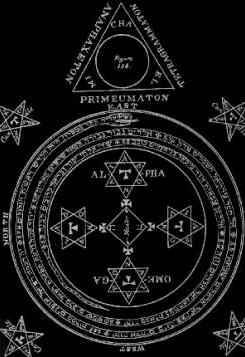 King Solomons Magical Circle
Most Widely Know Circle of All...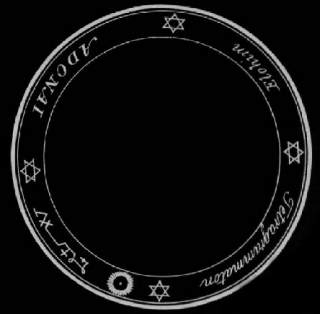 Another of King Solomons Circles
As you can see in the Circle above you have the double hex and Michaels' Seals with Tetragrammaton, Elohim, Adcnai, and the Suns' Seal . This is a very good circle for calling entities of the Sun.
In the Circle below, Michael is used for protection and the hexes for calling in the Elementals and the Sun for which place the entities are coming from. The Circles at the bottom is used for the calling of the Sun Angels and for protection.
A circle is basically a doorway or a temple between the worlds, its also used to show that it is Holy ground and a place where entities will not cross into and harm the person that is performing the magic. They are also used to keep entities and other being that could possible hurt the Magician out of the Circle. If you have ever performed a spell, then you do understand the importance of this. This is one of the Vital keys to spell Casting. I will be posting pictures of some of the circle that I have on the site shortly.
Service After The Sell "Guaranteed"
AVAILABLE 24-7 TO BETTER SERVE YOU
1-727-216-9750
New Supplies Store Coming Soon!!!



General information about spell casting below.
Having trouble with the site? e-mail Admin at admin@lovespells-magicspells.com